The Hot Doggett 100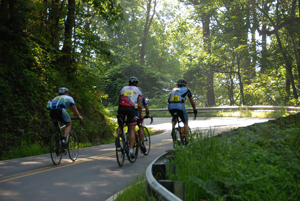 As the Organizers of the Hot Doggett 100, we want to extend a huge THANK YOU to all of our riders in the 2014 event on July 12.
While 50% of our riders came from North Carolina, other nearby states were well represented – SC-18%, TN-10%, FL-7% and GA-5%.  Riders traveled from as far afield as Rhode Island, California, Texas, Louisiana and Illinois.  Pre-registered riders identified with 33 different bike clubs. The gender split was 83% men and 17% women and ages ranged from 21 to 74.  More than 50% of riders were aged 50 or above with an overall average age of 49.
Riders were happy, enthusiastic and energetic.  While a handful (7%) had to be brought in by our SAG vehicles circulating on the course, everybody finished in great spirits.  We admit we cannot temper the heat, tame the humidity or smooth the ever-challenging hills of Madison County, but we do try to make your experience safe and enjoyable.  We heard from riders that several things we changed, based on previous years' feedback, were very much appreciated – chip timing, a third (shorter) ride, vegan/vegetarian meal choices and soda at the last rest stop all got a resounding thumbs up.
It is our hope that the Hot Doggett 100 will remain an intimate ride – yes we want to grow ridership, but we don't want to get bigger than about 425 riders.  So – tell your closest friends, tell your club about what we offer in the heart of the mountains of Western North Carolina.  In the words of some of our 2014 riders:
BRAVO!! This is absolutely one of the best supported events I have ever participated in. (Eric, SC)
I drove up from Auburn, AL to do my first official century and I have to say, you all set the bar very high. (Gary, AL)
This was a beautiful route…a really fun ride, even with the challenge of the climbs. (Paul, SC)
Special kudos to the rest stop and SAG volunteers – friendly, interested, encouraging, and competent! (Michael, KY)
(more comments on our Testimonials page)
Next year we will retain the same pricing structure, the same bike club incentives, and the many of the same volunteer crew.  Planning is already underway for the next Hot Doggett 100 which will be held on Saturday July 11, 2015; it will be a celebration of our 10th anniversary and of the sport of road cycling.  We hope to see you then.
Register any time on Active.com or by mail.

Rick and Connie Molland, July 2014
2014 Co-chairs
Hot Doggett 100