The Hot Doggett 100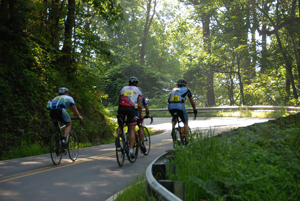 You can still register  for one of the Hot Doggett rides either at Early Packet Pickup (3 pm to 6 pm Friday July 10) or on Saturday Morning before the rides take off (6 am to 8:30 am)
We will again be based on the beautiful Mars Hill University campus.
In addition to our normal routes for both the Doggett Mountain Challenge 100 mile ride and the Devils Fork Metric, in 2014 we added a shorter (60 km) ride – the Big Laurel Grind – which will be available again this year.  While it doesn't have the climbs of Doggett Mountain, Devil's Fork or Sam's Gap, the Big Laurel Grind lives up to its name by providing the challenge of the mountains of Madison County with a slow gradual climb over a shorter distance.
Chip timing will be back for a second year. You asked for it and we listened.
And again this year we are offering a special promotion for racing and recreational bike clubs – clubs with six or more riders will receive a rebate of $7 per rider.  So if 10 members of a club participate, the club will receive a check for $70!  Be sure to list your bike club affiliation when you register.
Want to register early and save some serious money?  Registration for the July 11, 2015 event is now open on Active.com.  We know some riders like to plan their season schedules at the start of the year so we hope you will take advantage of this opportunity to register when you want to. By registering before June 1 you will save $15 over the cost of on-site registration.
Remember, the Hot Doggett offers on-campus accommodation, eight fully supported rest stops, awesome SAG support, free post-ride showers, post ride meal, great "swag bags" including a commemorative t-shirt and the opportunity to purchase a 2015 Hot Doggett cyclist jersey (more information to follow on this).
We hope you come help us celebrate the 10th anniversary Hot Doggett on July 11, 2015.

Rick and Connie Molland
2015 Co-chairs
Hot Doggett 100